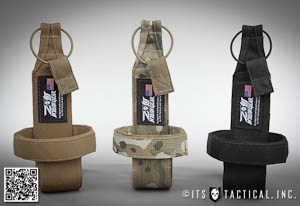 A while back ITS Tactical (of which I am a subscribed "Crew Leader", always glad to support a forward thinking group like these folks) posted their trial launch of a
new product that really caught my eye
. In a recent newsletter and subsequent posts they have announced that their
ITS skeletonized bottle holder
is now on general sale! I'm hoping that my contacts at HorNest will get some in...
Here's what ITS have to say about it: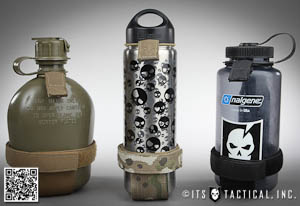 Lightweight Skeletonized Construction Weighs 2.7 Ounces!

Double Layered Webbing with Strategically Reinforced HDPE

Slipnot Textured Pull-Tab for Non-Slip Grip
Adjustable 1/8" Shock Cord for Multiple Bottle Neck Sizes
Three Levels of Height Adjustment for Multiple Container Sizes
True One-Handed Container Deployment
MOLLE/PALS Attachment Also Adaptable to Various Belt Sizes
Color Matched Webbing and Loop
Available in MultiCam, Coyote Brown and Black
Hand Made in the USA using American Materials and Labor
MOLLE and belt compatable, adjustable to fit a variety of bottle sizes and shapes, with three points of adjustable shock-cord attachment, the ability to sling your bottle upside-down and bombproof construction. Whats not to like?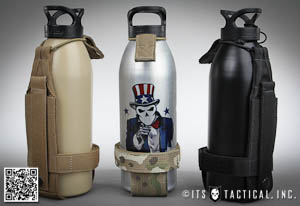 So, another collaboration between
ITS Tactical and Zulu Nylon Gear, much like their also very cool (and wish-lustful) ETA Trauma kit
. I have already commented on how much I like and am pleased with the Zulu Nylon Gear
CAOS Admin pouch
and the really cool
MOLLE car visor
sock, but this bottle bolder really appeals as well. I've been
very happy with my Platatac FUP pouch
, to hold my
1L SIGG bottle
, but this is a purpose built piece, and is totally wish-lustable.