Zu Bladeworx Warmonger Available for Pre-Order
First published on Breach Bang Clear here
:
One of my favorite bladesmith companies,
ZU Bladeworx
in New South Wales, Australia, is accepting orders for their newest bladed weapon: The Warmonger. Note that I didn't say "tool." I might sometimes use euphemisms when it comes to blades, but this is a
weapon
.
Apparently styled after the Imperial Chinese
dadao
knife, this hungry-looking cleaver will, I have no doubt, ship to you straight-razor sharp and ready to cut things in half. I fully expect the single piece construction that typifies
ZU Bladeworx blades
. That style, which has scales or embellishment, lends itself perfectly to cord-wrapping and multiple attachment options with the well-made Kydex sheathes and mounting hardware they offer, as well as a number of finishes to suit your MOS.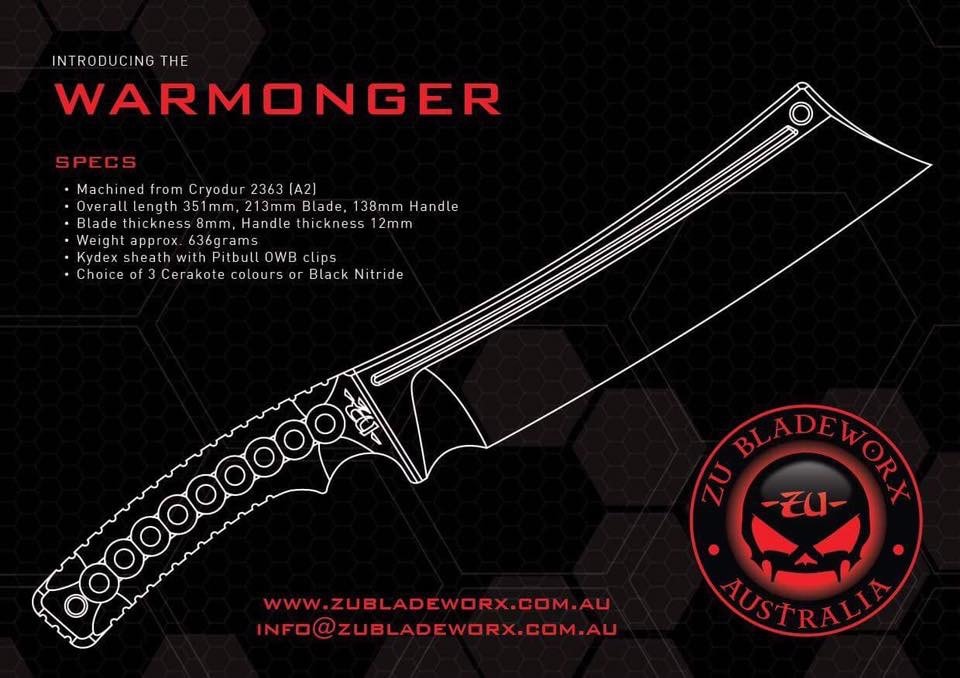 If the name sounds familiar, you might
recall them from this FFSK review.
So are cleavers tools or weapons? I chat with people about this often. Fundamentally it is the human brain that is the ultimate weapon; a knife, gun, or axe is just an inanimate object until the human brain gives it intent.
Some tools have been designed with a primary purpose aimed at combat. Some knives are clearly tools that could be used as weapons if intent was there. I know it grates on me when I watch
Forged in Fire
and they call EVERY knife a weapon.
As I mentioned to a ZU Nation member
the other day, I like to design functional, legal and collectable weapons. Not necessarily for carrying or self defense, but to collect, like coins or watches. I call them weapons not to be a hero, but because I like industrial, futuristic versions of medieval and martial arts weapons.
I was at the cutting-edge knives display at the Sydney Show and was eyeing off some kiku and nemoto knives, very tactical-looking and scary to non-knife people. A guy next to me said, "What would you want that for? It is useless as a tool."
I told him it would be for my collection. What is the use in collecting cheap shit? May as well collect good stuff, or why collect at all. Would I carry a Spectre? No. I don't carry any knives to be honest. Do I play with them at home? All the time.
Every knife we make is a functional tool, and an efficient weapon in the right hands.
ZU Nation
price will be $429 plus post for knife and kydex. Attachments extra.
Installment plan as follows;
1) $200 - (plus you can add attachments if you want them)
2) $229 plus post (about $20) due four weeks later
I've done one of these pre-releases and am extremely happy with my Grunt. It's a decent system and I trust the folks at ZU Bladeworx to deliver.
Here is a batch of their also-sold-out Reaper weapons, commissioned by the ADF. This lot destined for the soon-to-deply 1RAR.
Happy Hunting, lads!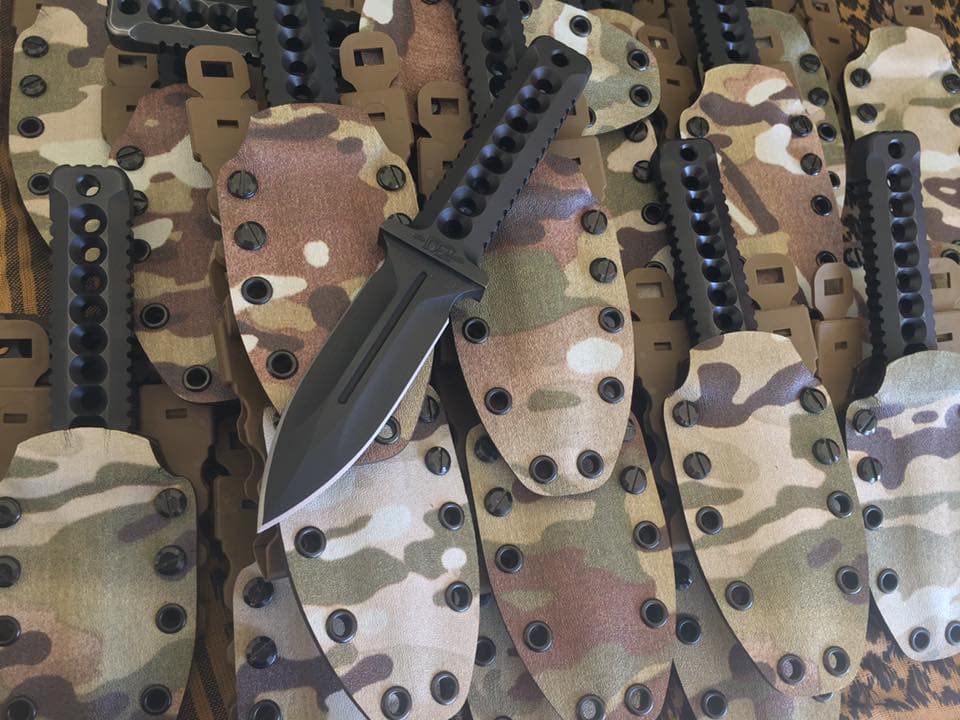 Late update from Matt of ZU:
"So more details on the Warmonger, subject to change but pretty sure it is right.




100 piece run, I can't see us doing a second wave.




Base blade with kydex is $495 (ZU Nation members get a coupon to take off $66 to make it $429 like I promised). This includes tufftride finish and black kydex (no attachments). Coupon will only work on wave 1 (in the unlikely event we so a second wave).




2 part installment. The coupon will work on installment 1.




Postage is $20 (3kg exp bag with sign sticker)




Options:




Cerakote one colour - add $25




Apocolypse Cerakote (red or bronze) add $75




Tek Lok - add $25"